Fulfill Dreams – a PHIBA Foundation program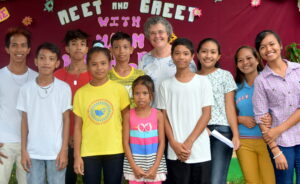 The PHIBA foundation started the Fulfill Dreams program in 2006 when founder Kathleen Deckmyn noticed that to attend school, transport was the main obstacle for disadvantaged children in the province of Leyte, Philippines.
Although primary and secondary education is free and compulsory, many families could not afford to send all their children to school due to lack of financial support. Most secondary and tertiary schools are centralized in big cities so some students have to walk hours before reaching these schools. Therefore some would give up and stay home to help out their parents in the house instead.
The main goal of the project is to assist the children in their educational journey by providing them with transport allowance, school supplies and the obligatory uniforms. At first, she was able to obtain a small private fund from a family friend in Belgium who wanted to donate for a project benefitting children. The program initially covered a number of families located in the remote barangays around a 50-kilometer radius from the city of Tacloban, the capital of Leyte. The program expanded through the years as the foundation got more Belgian benefactors.
For 14 years now, PHIBA Foundation continuously assisted a total of 274 children from less fortunate families to send their children to school.